One New Yorker's Perspective
A photo essay by Luigi Kapaj
September 11th, 2001:

The view from Staten Island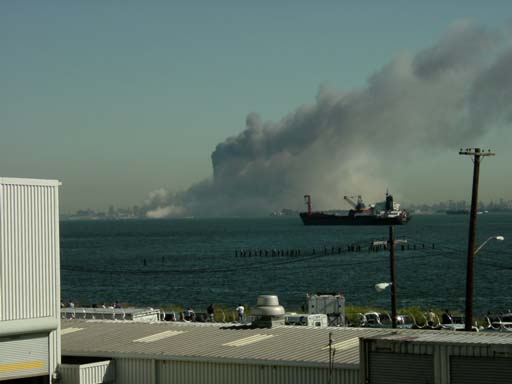 I was on my way to work when the terrorists struck. I was told what was happening & the ferries were stopped, I got off the train where I could see for myself. I did not know it at the time, but this is shortly after the first tower collapsed.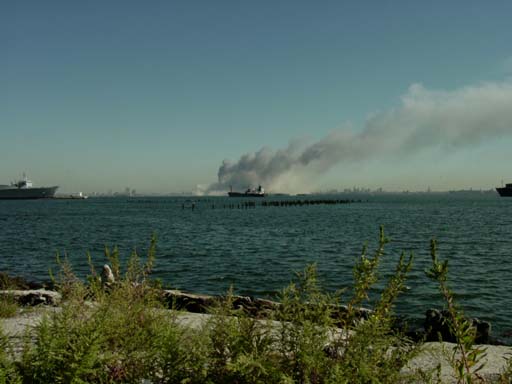 This would normally be a beautiful view of the Manhattan skyline across the harbor and a great location for viewing the 4th of July fireworks.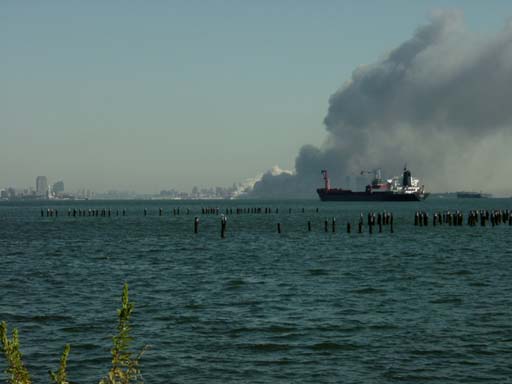 This is immediately after the second tower collapsed. As I was taking this picture, you could hear the collapse and feel the shockwave. A cloud of smoke quickly consumed downtown Manhattan.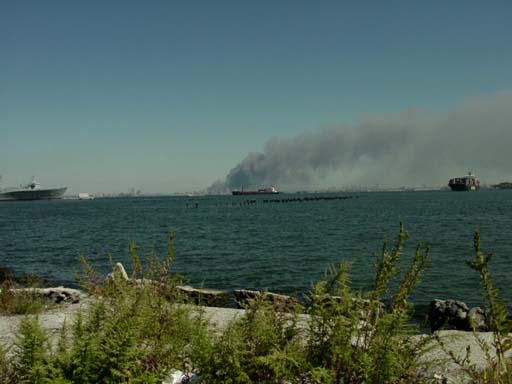 Hours later, the smoke did not let up.
September 21st, 2001:

Getting back to work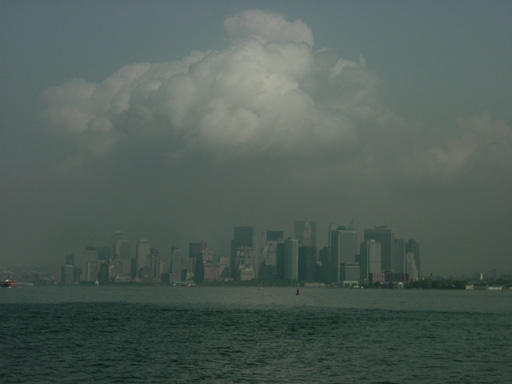 Quite symbolically, a dark cloud hangs over the City. I first returned to work on Saturday, September 15th to help get my company's computer systems up and running to be ready for trading on Monday morning. There were two things I remember most about those first two days. There was an eerie quiet, Manhattan is never so quiet as 6am Sunday morning but this was worse. Then there was that smell. It didn't go away for days. Everyone who showed up for work that first weekend has been out sick at least one day this week with a soar throat or upset stomach.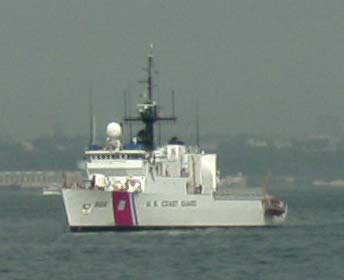 A Coast Guard ship stands watch around the downtown waters. The ferry started up on Monday and has slowly progressed from people quietly watching the empty space in the skyline, to murmurs of shock and anger, to this last day having almost it's normal buzz but still the people stare towards Manhattan in disbelief.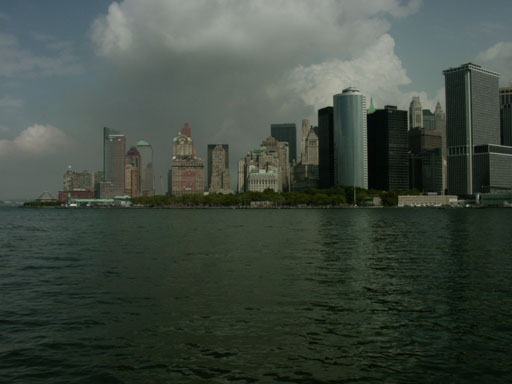 People stare where the towers once stood.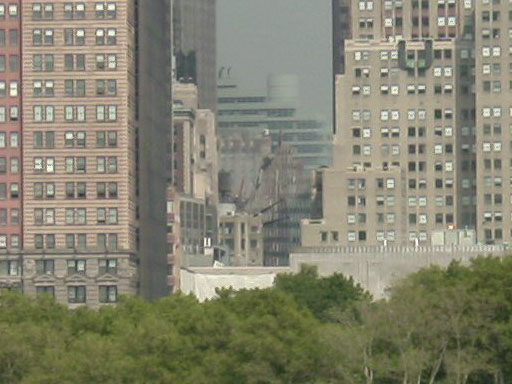 You can even catch a glimpse of heavy cranes removing debris.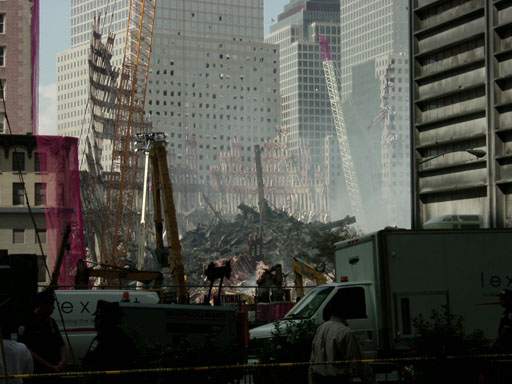 Nothing Prepares you for seeing this up close.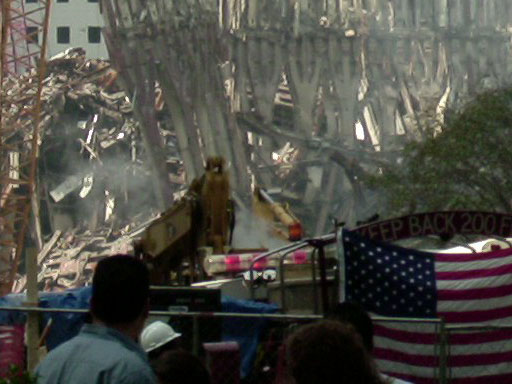 There is more to this than what can be seen in a single photo, or on a television news report.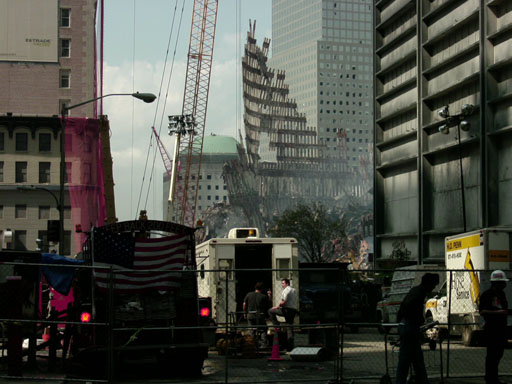 This view from Broadway is now accessible to the public. When I walked to the same location on Saturday, I had to pass through two checkpoints, and the pile of rubble was almost as high as the remaining piece of wall.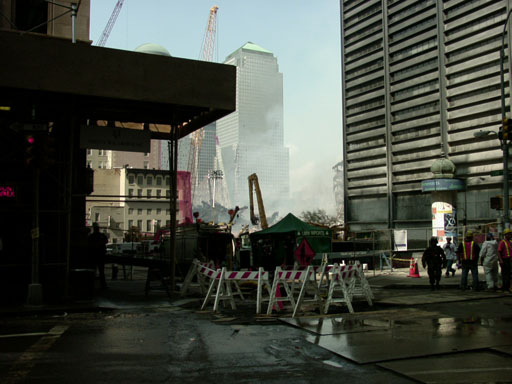 The surrounding buildings were damaged to varying degrees. Downtown is overrun with emergency vehicles and workers. Before Monday, it was dangerous to be on the street with every vehicle around used to having the right of way, and few traffic lights working.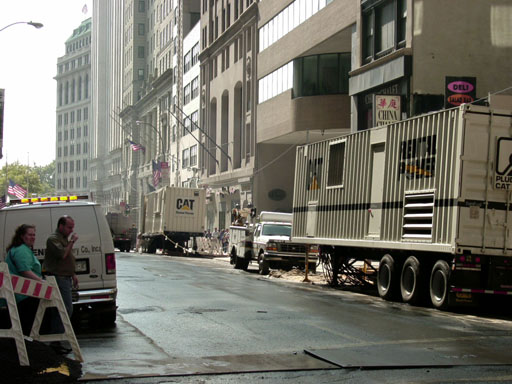 Broadway is reopened to the public but looks very different.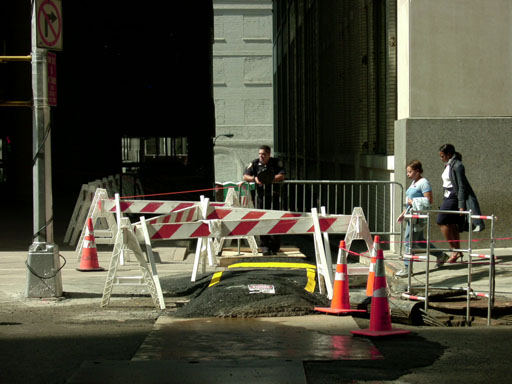 West of Broadway is still off limits. In the street, you can see where temporary power cables are run.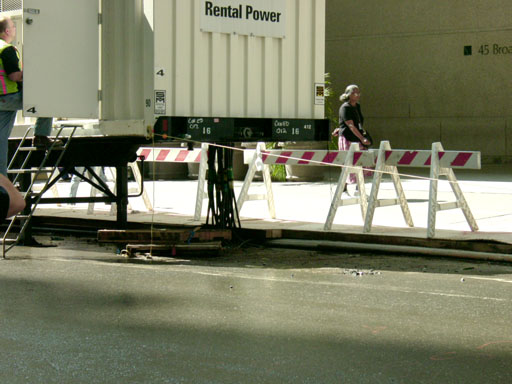 Some buildings only have power from generators loaded on trailers.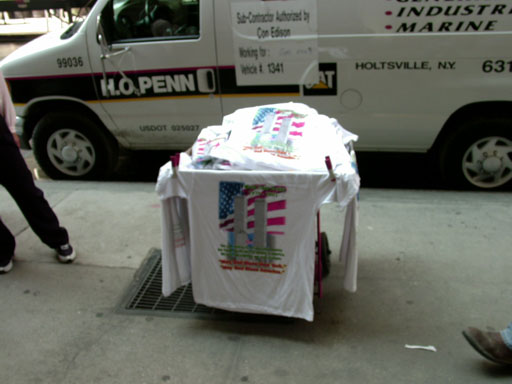 Some things about New York have already returned to normal.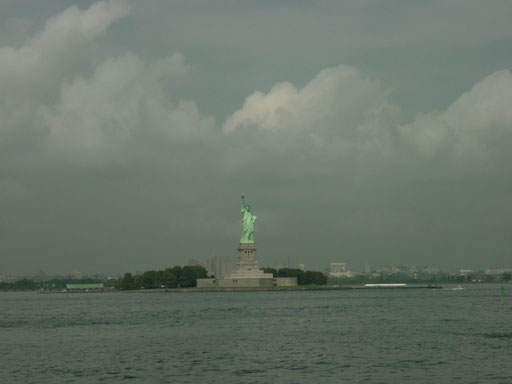 Some things were never taken from us and symbolized why we are so strong. Every day I see this view and remember that our liberty must never be forsaken in the face of any adversity.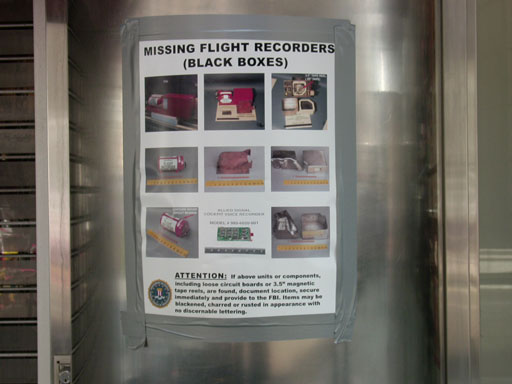 We are reminded in many ways of the disaster's proximity to where we work.
---
Words and Pictures © 2001 by Luigi Kapaj
If you want to help: http://www.libertyunites.org/