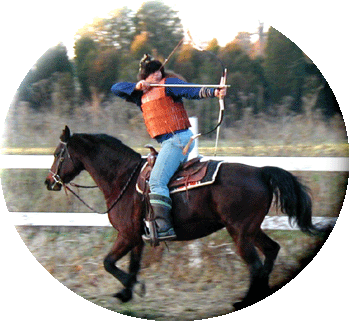 Mounted Archery
"General Method for Shooting on Horseback
As powerfully as if chasing the wind,
The eye moves like a bolt of lightning,
Draw the bow, immediately loose off the arrow,
The eye is fixed unblinking,
Your body and your equipment as solid as rock,
Don't lose your momentum,
Loose off the arrow with determination."
-Archery Manual of Wang Ju, Trans. Stephen Selby 1
---
Links:
Kassai - Horsebackarchery
http://www.horsebackarchery.com
Mounted Martial Archery
http://www.mountedmartialarchery.org/
Horseback Archery Competition, kassai010922.mpg - (132mb)
http://www.fischnetz.com/kassai/kassai010922.mpg
readme.txt
alternate download sites
http://www.kassai.at/media/kassai010922.mpg
http://stream.sil.at/fischnaller/kassai010922.mpg
Society For The Promotion Of Traditional Archery
http://www.sptradarch.org
Lajos Kassai
http://www.kassai.at/
The Glade - UK Magazine
http://www.theglade.co.uk/archery_mounted.htm
Two different German/Deutsch Horsearchery sites
http://www.lajos-kassai.de/
http://www.steppenreiter.de/
Chun Ghon Dang - Korea Equestrian Martial Arts Assc.
http://www.chunghondang.com/
HorseArchery Yahoo group
http://groups.yahoo.com/group/HorseArchery/
International Horse Archery Festival
http://www.intlhorsearchery.org/
http://www.horsearchery.org
---
Further reading:
1Archery Manual of Wang Ju, translated by Stephen Selby and cited in his book Chinese Archery. The background is the accompanying illustration from a Sung Dynasty printing.
Lajos, Kassai. Horseback Archery. Hungary: Gyomai Kner Nyomda Rt., 2002.
---

© 2001-2003, by Luigi Kapaj, in the SCA: Gülügjab Tangghudai (Puppy)
Send comments to Puppy
return to the Silver Horde home page